Habitat for Humanity works in partnership with God and people everywhere, from all walks of life, to develop communities with people in need by building and renovating houses, so that there are decent houses in decent communities in which every person can experience God's love and can live and grow into all that God intends.

Mark Twyford
Executive Director

Kim Gloady
Executive Assistant & Volunteer Coordinator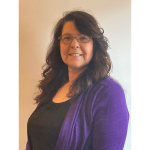 Charlene Rutan
ReStore Operations Manager

Bob Bedillion
ReStore Warehouse
Erik Hoeke – President
Chris Roe – Vice President
Matt Sarver – Treasurer
Jason Danks – Secretary
Don Formoso
Regina Leckie
Nathan Miller
Mike Vighetti
Frequently Asked Questions
Does Habitat provide housing free of cost?
No.  Our potential partner families must first consent to having their credit checked, as they will be responsible for a monthly mortgage payment.  In addition, they must meet "sweat equity" work hour requirements, based on the number of adults in the household, by helping to build not only their own home, but the homes of other partner families as well.
How is the eligibility for a Habitat home determined?
An applicant's family must complete an application, provide all the requested verifications, and consent to a credit check.  Once these steps are completed, the family will be interviewed in their current home by members of the Family Selection Committee, who will make a recommendation to the Board concerning the family's suitability for the program.
My credit score isn't very good, does that disqualify me?
Not necessarily.  When we review a prospective homeowner's credit, we are more concerned with their ability to pay the monthly mortgage, and meet their other monthly obligations, and not so much their FICO score. 
A downloadable, printable application is available by clicking on the red "To Apply" button at the top of this page.  Or, you can get an application at our office on East Maiden Street, or at various service agencies throughout Washington County.
Habitat for Humanity International and its affiliated organizations (HFH) will not proselytize. Nor will HFH work with entities or individuals who insist on proselytizing as part of their work with HFH. This means that HFH will not offer assistance on the expressed or implied condition that people must (i) adhere to or convert to a particular faith or (ii) listen and respond to messaging designed to induce conversion to a particular faith.
Our most recently filed IRS 990 may be downloaded by clicking on the link below.  Our monthly financial reports may be viewed at our offices during normal business hours